PATCH AND SPLICE ENCLOSURE BOXES
HOW TO CHOOSE THE BEST PRODUCT SOLUTIONS FOR FTTH NETWORKS INFRASTRUCTURES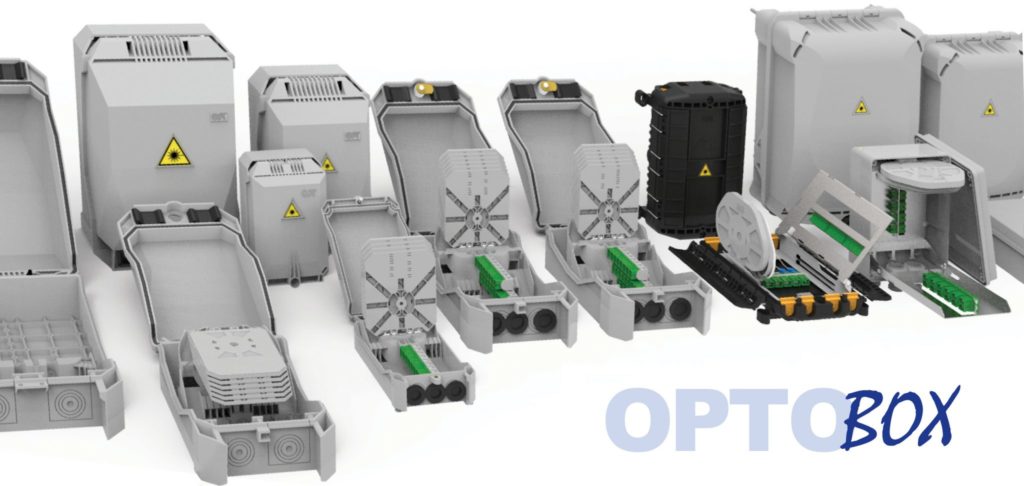 Fiber is nothing without End to End Solutions!
Optotec has developed different type of boxes: FOCUS NGB, LIGHT and TOP for the splicing and termination of optical fiber within network infrastructures based on GPON technology (Gigabit Passive Optical Network), Point-to-Point and Point-to-multipoint, usually employed for FTTH networks.
The simple and innovative design gives the boxes functionality, quality and extreme versatility. They are suitable for both indoor (buildings, technical rooms, etc.) and outdoor installations (wall, pole, cabinet, pedestal, manhole, etc.). Highly reliable in difficult environments due to dust and water presence, they can operate in categories C (Controlled), G (External), A (Aerial). 
Thanks to the flexibility of its products, Optotec is able to satisfy customer requests, designing and implementing ad hoc solutions.

Materials, colors, components and configurations can be customized upon minimum order quantities agreed between Optotec and its clients. 
All Optotec box series use specific and universal accessories for the management of different types of cable (loose tube, micro module…) and fiber (G.652 and G.657), in input, output and kit for fixing the product in the environment. 
Furthermore, inside all the boxes, there is the possibility of allocating splicing and termination systems from the most common connectors, to field mountable connectors, PLCs and optical reflectors.
OPTOboxes can be equipped with a safety locking system against accidental or unauthorized third parties opening.

All the series are compliant with IEC and ISO standards. They are also available in preassembled configurations according to the technical specifications of the main TLC Operators, as far as the Italian market is concerned: Open Fiber, TIM, Fastweb, Flash Fiber, small local operators and municipality. 
It is possible to internally set up all the boxes with specific configurations, such as splicing, patching, termination, uncut cable management and storage, PTE or ROE depending on the network structure and point of employment. 
In FTTH networks, the most interesting points for end users are ROE (optical building distributor) or PTE (building termination point).

ROE or PTE are generally installed in the technical room of the building, but can also be mounted on an external wall, buried or placed in a pedestal. 

ROE is the last installation point of the splitter (PLC); there are different configurations depending on the number of customers served (8, 16, 32 units).
PTE is the termination point (up to 48 units).
In FTTH networks, both of them are the point of separation between the secondary optical network and the user one
PTE, ROE, PATCH AND SPLICING FIBER TERMINATION ENCLOSURES
IP degree according to EN 60529 specification

IK degree according to EN 62262 specification

Suitable for the use of fibers:G.652G.657

Indoor and outdoor installation: manhole pole column / cabinet Wall

Available colors: Gray (RAL 7035) Black Custom

LOOP, UN CUT or MID SPAN Cable management

Patch and Splice capacity up to 32 connectors. Usable with most common connectors on the market from Standard type to SFF (Small Form Factor)

Splitter (PLC) instal capacity

Customer premises connection

Compliance to the requirements of the most important TLC operators
IP degree according to EN 60529 specification

IK degree according to EN 62262 specification

Suitable for the use of fibers:G.652G.657

Indoor and outdoor installation: - pole column / cabinet Wall

Available colors: Gray (RAL 7035) - Custom

LOOP, UN CUT or MID SPAN Cable management

Patch and Splice capacity up to 32 connectors. Usable with most common connectors on the market from Standard type to SFF (Small Form Factor)

Customer premises connection

Compliance to the requirements of the most important TLC operators
SPLICE ONLY
FOR FTTH NETWORK
IP degree according to EN 60529 specification

IK degree according to EN 62262 specification

Suitable for the use of fibers:G.652G.657

Indoor and outdoor installation: manhole pole column / cabinet Wall

Available colors: Gray (RAL 7035) - Custom

LOOP, UN CUT or MID SPAN Cable management

Splice capacity up to 288 optical fibers with holder for splice protections type: ANT (meccanical type) SMOUV (heath-shrinkable type)

Splitter (PLC) instal capacity

Compliance to the requirements of the most important TLC operators